"IT'S A GOOD SIGN!" - Exclusive Club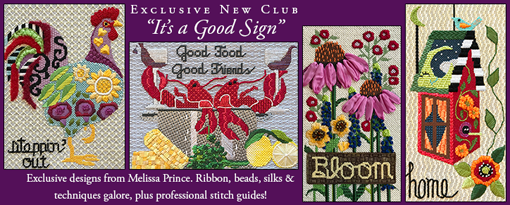 Announcing our brand new club with exclusive designs from Melissa Prince!
Handpainted 18 mesh canvases.
Full cards or skeins of all threads.
Professional stitch guides with color photos, "stitch by number" maps for thread and stitch placement, all stitch diagrams and clear, concise instructions.
Sign up at any time and receive the next scheduled shipment. Missed canvases will be shipped in regular intervals after last scheduled date.
Shipping Schedule -
May - "Home" 5" x 10"
July - "Good Friends" 8" x 6"
September - "Bloom" 5" x 9"
November - "Steppin' Out" 6" x 8"
For more information, call Randi or Julie at 314.994.0606!
CHECK BACK SOON!
We are working on more new classes. Stay tuned!
Class sizes are limited, so register soon! Call 314.994.0606 or 877.869.7356.
Private Classes
Private, individual or group classes may be arranged at any time. Learn beginning needlepoint or request a special class, such as decorative stitches. Please call the shop at 314.994.0606 to schedule a time for yourself or your group!
Check back soon for more classes!
©2007- Sign of the Arrow. All rights reserved.