Celebrating 50 Years of Giving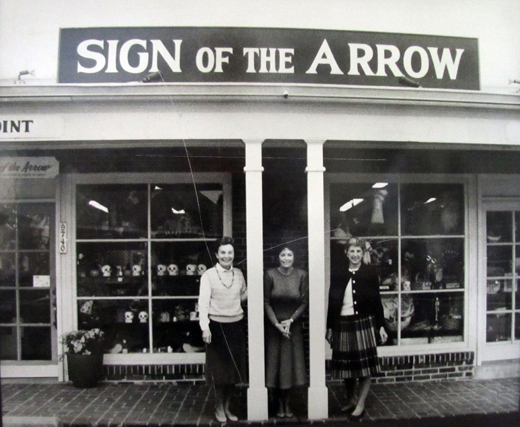 Our Unique History
Sign of the Arrow was established in 1966 when nine women of the St. Louis Alumnae Club of Pi Beta Phi took a leap of faith to expand their fundraising efforts from the annual Carrousel at Tilles Park to a year-round shop. On August 1st, 1966, the 1867 Foundation was established and the first storefront for Sign of the Arrow opened at 9666 Clayton Road. The original merchandise selection consisted of cards and paper products, baked goods, consignment needlepoint and crafts. The shop grew and, in 1975, moved one block west to 9740 Clayton Road. As needlepoint interest increased in popularity, Sign of the Arrow became known for its needlepoint kits, canvases and custom belts. Over the years, the focus on needlepoint continued to be strong and the shop diversified the gift selection. Through a loyal customer base and exciting innovations in needlepoint, Sign of the Arrow outgrew its home once again. In 2014 the shop moved to its current location at 9814 Clayton Road. With the added space, Sign of the Arrow expanded both its needlepoint and gift departments and created an area for specialized classes and instruction. From the beginning, Sign of the Arrow was founded as a not-for-profit to support the St. Louis Community. As business thrived, the shop was able to donate to a greater number of charitable agencies and the need for a Philanthropy Committee arose. The committee reviews grant applications and makes the difficult decision of choosing grantees. Today, the shop is staffed by 80+ community volunteers who give in excess of 22,000 hours annually to help run Sign of the Arrow. ALL shop proceeds benefit local area agencies. Sign of the Arrow has donated more than $3.6 million dollars to 187 different charities since inception. Sign of the Arrow continues to be known for its extensive selection of designer needlepoint, including hand-painted canvases, custom designs, custom finishing, furniture, fibers, trunk shows, and classes. Knowledgeable staff and volunteers assist both novice and experienced needlepointers. The shop also offers unique gifts, including decorative accessories, holiday decor, sorority and baby items, picture frames, stationery, serveware, and more. For 50 years, our customers have truly impacted the community when they shop at Sign of the Arrow. As we look toward the future, we hope to increase our giving while remaining the area's premier needlepoint and gift shop.
Click here to see grant recipients from the past 50 years!
Click here to see a video of our history!
Events
Join us for our 50th Anniversary Open House at Sign of the Arrow on Wednesday, September 7th, beginning at 11:00 a.m. We'll celebrate with special in-store promotions, discounts, drawings and refreshments!
Stories and Letters
In 1992, I was needlepointing an international flag belt as my husband traveled extensively internationally. While I was in the process of doing this we were invited to the Barcelona Olympics. I changed one flag to the Olympic flag and yes he wore it every day in Barcelona! Hanna Evens

My husband and I were in Vienna, Austria some years ago. I had gone into a tiny shop to look around and he stayed outside looking into the window. All of a sudden, a male voice said "Sign of the Arrow!" Bob turned around in amazement and the young man behind him said "I recognized your belt". Needless to say, we must be the belt capitol of the world. Anne O'Connell

I'll never forget the day that a customer came into the shop to buy some canvas for pillows she was making. As I helped cut and tape her canvas, she shared with me that she had been enjoying needlepoint for many years, and was about to celebrate her "big birthday". When I asked her more about her upcoming event, she shared that it was birthday #90. But, what tugged at my heartstrings was when she said that before her eyesight had dwindled, she had stitched belts for each of her three sons. She told me that they now lived in three distant parts of the country, but that all three were coming home for her "big birthday" celebration, and she was very excited and proud because they had decided that they would all wear the belts that she had made them to the party! Merry Gnaegy

I also remember helping one of our male customers who had selected a beautiful painted canvas that featured the head of a lion. We had a great time choosing all the gorgeous silk and ivory threads for the piece he had selected. As we talked, I learned that he was actually buying the piece for his daughter, who was serving in a remote area of Africa for the Peace Corps. He shared that her living conditions were primitive, and that she entertained herself by doing needlepoint in the evenings. He said that being able to provide his daughter with canvas and threads to stitch was one thing he could do to bring her enjoyment while she was serving others so far away! Merry Gnaegy

I took a beginning needlepoint class at Sign of the Arrow when I first started volunteering as a salesperson. We were supposed to make a pillow with the design of tulips and leaves which we stitched, but since I didn't want a pillow, I have the shop make it into a purse. Later I carried that purse to the White House in Washington, DC and got several compliments on my needlepoint purse. In addition to the joy of needlepointing, those compliments spurred me on to forty more years of doing needlepoint. What a rewarding, relaxing hobby this is! Peg Sant'Ambrogio

I am a long-time customer of Sign of the Arrow. One thing that stands out in my mind is how nice and efficient the people are at your shop, especially Randi.
One piece sent for finishing contained a small portion of a canvas not yet completed. Randi, bless her heart, finished it for me. I thought her offer to do this was extraordinarily generous.
Over the years I have done more belts than I can count. For the last ten years, Sign of the Arrow has been finishing these belts. What great craftsmanship!
Below is a link to the book I wrote, Dancing with Stitches. You will notice that many of the items in the book were finished by Sign of the Arrow, including Christmas ornaments, half dolls, purses, a Nordic Christmas House, Standing Santa, Christmas wizard, etc.
http://www.blurb.com/b/2210157-dancing-with-stitches
Thanks for all the excellent finishing work you have done for me over more years than I care to count! Daphne Goodyear

Again, you finished my precious handiwork - another belt - both on time and in fine quality. The belt is now on its way to a good friend in Australia who lost his wife a few months ago, it may give him some joy. Thank you for a fine job well done, I appreciate your great service. With best wishes, Peter Fischoeder