Light & Magnifier - Hands Free
The Mighty Bright Lighted Handsfree Magnifier has 1.5x magnification and a 4x bifocal, with a single bright white LED rated for 100,000 hours. The optical grade acrylic lens and curved, cushioned stabilizing brace for upper chest create steady hands-free magnification. The lightweight design and adjustable neck strap is designed to offer a comfortable fit. Powered by 3 AAA batteries (included) with a battery life of 7 hours. 5 LUMENS, 9" x 0.75" x 6.5"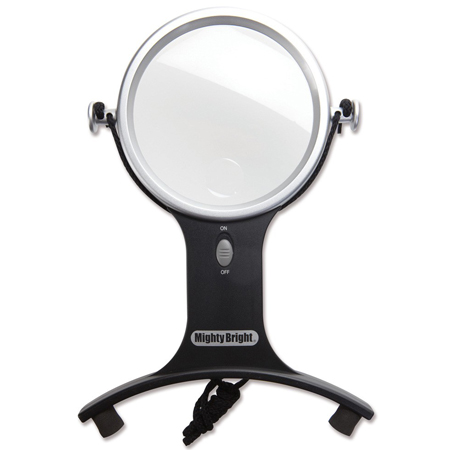 Please note: Because Sign of the Arrow is a not-for-profit business, we do not accept any returns.
NOTE:
While we strive to always provide the correct price for our merchandise, occasionally, we must charge an amount that is different than the price we publish. Market price fluctuations are causing our suppliers to raise prices without notice. You will be advised of the increased price as soon as we are aware of it, and you will be given the opportunity to approve, cancel or modify your order.
If you did not find what you were looking for please contact us and we will be happy to order the item for you.